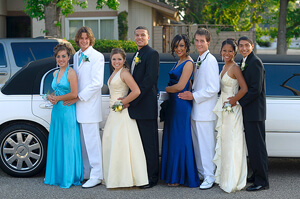 One of the more enjoyable occasions for a high school senior in Toronto is attending their high school prom. There is a lot of planning that is involved with the event, including what to wear, who to go with, how to get there and so on.

With Toronto Limos, we can assist you with getting the prom; however, the rest is up to you. With our selection of limousine fleet, getting to your high school prom is something that is both fun and luxurious.

Some of the limos we have that will compliment your prom limousine include Hummer limousines and Lincoln Navigator limos from our SUV stretch limousine collection.

We also have limousine buses, great for up to 50 passengers, if you want to have a large group of friends all going together. Our SUV stretch limousines can seat up to 20 passengers comfortably, however, it is all up to your preference and your budget. We offer our limousine services in Toronto and throughout the GTA, from Pickering, Ajax, Whitby to Mississauga, Brampton, Oakville, Georgetown and more within Toronto.

If you have any questions or concerns, we have reps standing by that will be able to assist you with your prom limousine rental inquiries so you can get the right type of limousine for your night out.

Another advantage to reserving a limousine for your high school prom is that you will be able to have all the fun you want, while arriving safe at the end of the night, and you will not have to bug parents, older siblings to drop you off.

Show up at your prom with a smooth ride that will leave everyone envious of you and you will make your special occasion that much more memorable with a limousine rental from Toronto Limos.