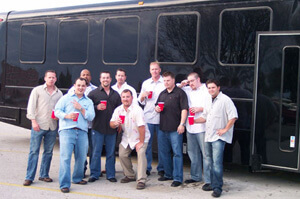 There are many reasons to rent a Sporting event limo in Toronto, a if you are planning on attending a sporting event, rent a limo with Toronto Limos, providing you with great customer services and an enjoyable time, and with Toronto Limos, you will enjoy professional limo services, great limousine fleet and nice limousine chauffeurs.

One specialized limousine services that we provide you with is Sporting event limo rentals, where you can enjoy your sporting event, with family and friends. We have a sporting event limousine that is right for your occasion, depending on your budget to reserve a sporting event limo.

Some of the different limos we offer for sporting event limo rentals include stretch limousines in Toronto for a sporting event that can ride 10 passengers, perfect for family of the sporting event and close friends as well.

Other sporting event limousines that you can rent from Toronto Limos in Toronto includes sporting event bus limos, SUV stretch limousines for your sporting event celebration, where each of these limos can hold from 16 passengers up to 26 passengers, great to have an enjoyable sporting event celebration with a limousine rental in Toronto.

We also provide you with sporting event limousine rentals within the GTA, so if you have a sporting event that you are celebrating in Richmond Hill, Thornhill and North York, we are your first choice for sporting event limousine services. We will make sure you will get the right type of sporting event limousine services in Toronto and the GTA from Toronto Limos for your special occasion.